Auto Wrist Blood Pressure Monitor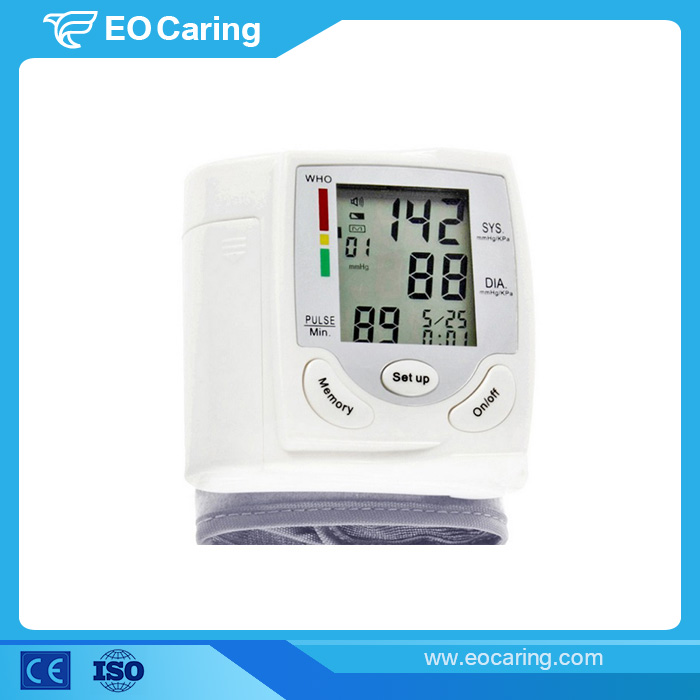 Product ID: EO-BP2022
Description: Auto Wrist Blood Pressure Monitor
Usage: Blood pressure monitoring
Warranty: 1 Year
Payment: T/T, L/C, Western Union, Paypal
MOQ: 100 Sets
Product Details
This Auto Wrist Blood Pressure Monitor is just not provide numbers. It provides information about your body. It provides accurate readings so you know exactly what's going on with your heart and your health. Hypertension, or high blood pressure, impacts roughly 30% of adults worldwide. An accurate and consistent picture of your heart's health is an important step to controlling and regulating your blood pressure.
Specification
| | |
| --- | --- |
| Color | White |
| Application | Wrist |
| Memory | 90 Tests |
| Certification | ISO CE |
| Application | Home/Clinic/Hospital |
| Display | LCD Large Screen |
| Accuracy | ±3mmHg |
| Measuring Range | 0-280mmHg |
| Battery | 4 AA batteries |
| Operating Temperature | 5℃-40℃ |
| Operating Humidity | 40%-85% |
| Pulse measuring accuracy | ±3% |
| Air inflation | Automatic |
Product show:
Advantage
1.A high-quality digital display that clearly shows the measured numbers so that users can better understand their blood pressure;
2.This Auto Wrist Blood Pressure Monitor is worn on the wrist, which is very convenient to put on and take off;
3.It is very light, and has no discomfort when used;
4.One-touch switch, easy to operate.
5.This sphygmomanometer can be operated independently and is easy to use. The blood pressure value and the pulse rate can be displayed.
6. It has a memory function and can store 90 test records, which is convenient for users and doctors to observe data changes.
Note:
The sphygmomanometer is not suitable for use in the following groups: obese people; arrhythmia; patients with very weak pulse, severe dyspnea and hypothermia; patients with heart rate below 40 beats/min and above 240 beats/min; patients with Parkinson's disease, etc.
Related Products
Inquiry