Portable Non-Contact Thermometer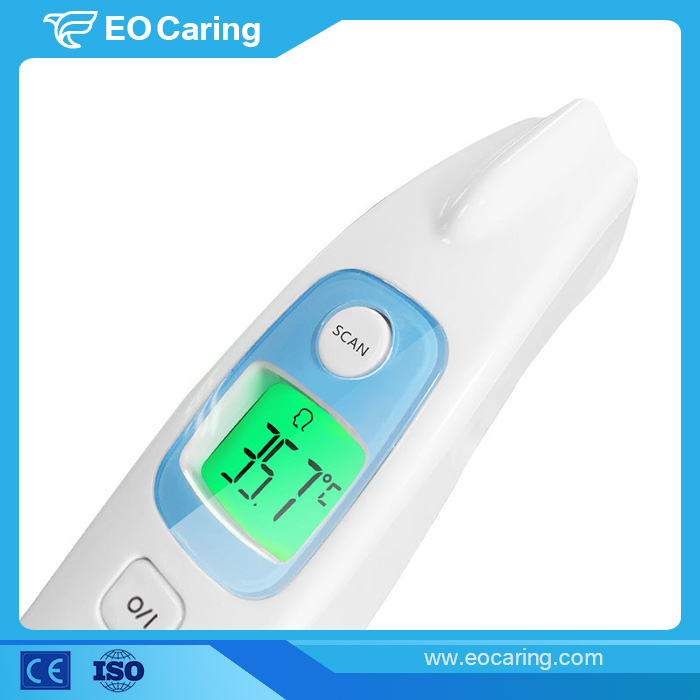 Product ID: EO-TM3023
Description: Digital Portable Non-Contact Thermometer
Usage: Body temperature
Warranty: 1 Year
Payment: T/T, L/C, Western Union, Paypal
MOQ: 100 Sets
Product Details
This Portable Non-Contact Thermometer is a really great home gadget you'll need to quickly and reliably measure body temperatures or object temperatures. Check for fever without disturbing your infant or risking cross-contamination. Adopting advanced infrared temperature sensing technology, this product is harmless and safe, and provides ultimate convenience to check fever and flu symptoms without touching or disturbing your child, simply hold device near their forehead and press a button.
Specification
| | |
| --- | --- |
| Place of origin | China |
| Test time | 1 second |
| Color | White |
| Certification | ISO CE RoSH |
| Application | Home/Clinic/Hospital |
| Display | LCD Large Screen with 3 colors backlight |
| Accuracy | ±0.2℃ |
| Battery | 2 AA batteries |
| Measuring Range | 0℃-100℃ |
| Weight | 115 Grams |
| Size | 140*35*30mm |
Advantage
1. The Portable Non-Contact thermometer puts the error calculation formula of the temperature difference into the central micro-processing system, and detects the change of the ambient temperature at any time and corrects the reading value to ensure the accuracy of the measurement.
2. It is easy to use, unique in design, compact in structure, high in measurement accuracy and anti-interference.
3. This thermometer is easy to use, and as long as the aiming and buttoning are performed, the current surface temperature of the measured object can be read out in one second.
4. It is not mercury-containing, which is safe and non-toxic, and will not cause any harm or poison to the human body.
What Do I Get With This Package
1 Digital Portable Non-Contact Thermometer
1 User manual
2 AA batteries (Optional)
Product show
This Portable Non-Contact Thermometer is an easy and convenient way to check your body temperature, anytime, anywhere. It is suitable for use on baby and kids. It gives body temperature readings in just 1 second and it help you to check your body temperature quickly and accurately.
Related Products
Inquiry