Patient Care Electric Hospital Bed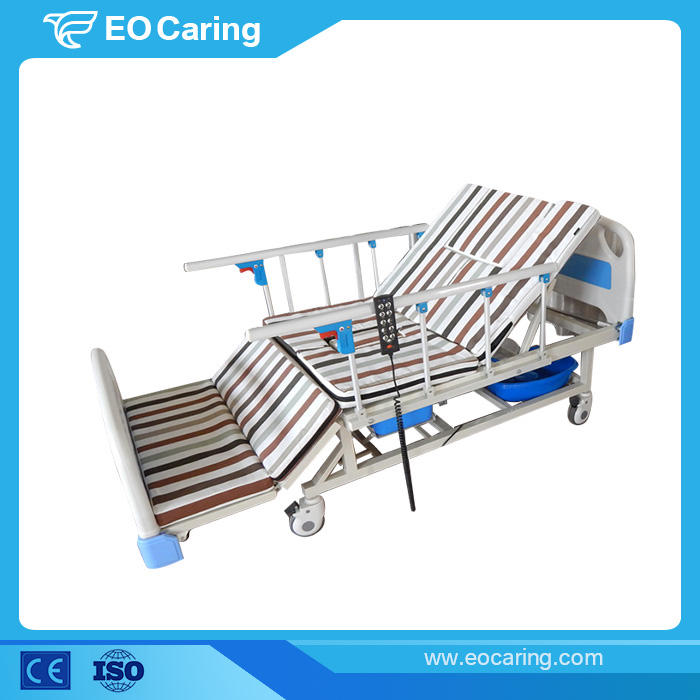 Product ID: EO-EH5024
Description: Patient Care Electric Hospital Bed
Usage: People who need long term care or disabled
Warranty: 1 Year
Payment: T/T, L/C, Western Union, Paypal
MOQ: 20 Sets
Product Details
Product introduction
Using a hand controller to operate the 4 sections, this Patient Care Electric Hospital Bed easily adjusts in the backrest angle, leg rest angle, and bed height to accommodate a variety of patient positions. With the feet at a higher or lower position than the head, it can be achieved for optimal pelvic positioning during surgery, exams, and for comfort.
Specification
| | |
| --- | --- |
| Place of origin | China |
| Size | 2000*900*500 mm |
| Color | White and Blue |
| Back adjustment | 8-85 degrees |
| Turn over | 0-55 degrees |
| Certification | ISO CE |
| Application | Home/Clinic/Hospital |
| IV port | Available |
| Dining table | |
| Hair wash function | Available |
Advantage
1. The bed body has the functions of overall balance lifting, front and rear tilting of the bed, lifting of the back, and bending and lifting of the legs.
2. The user can adjust the height of the bed to achieve different heights of care requirements, and through the change of the back and leg adjustments, to achieve the sitting and lying posture of different shapes and achieve the comfort of different needs of the human body.
3. The Patient Care Electric Hospital Bed is used for the rehabilitation of the patient, which can be moved freely or fixed in one place. The casters can be braked and have good stability, which can meet the requirements of different wards.
4. The bed is selected from brand motor to fully guarantee the safety of the motor system.
Product show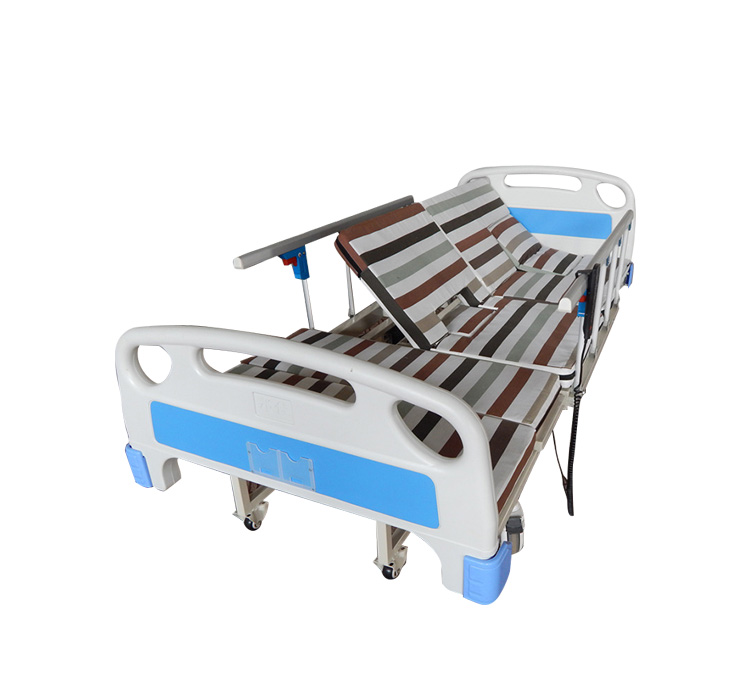 Product features
The Patient Care Electric Hospital Bed has three electrical motors, one that adjusts the overall height of the bed, one that controls the angle of the upper body section, and one that controls the angle of the knees and legs. A hand control on the side of this product is used to activate the motors and adjust the bed to suit the needs of the patient, eliminating the need to crank.
Related Products
Inquiry